Probao sam jednu vrlo finu alatku pod nazivom Black Magic Probe (BMP), programator i debuger za ARM procesore, alternativa slicna ST-LINK v2 (isti MCU) ali sa ugradjenim DBG serverom u interfejsu.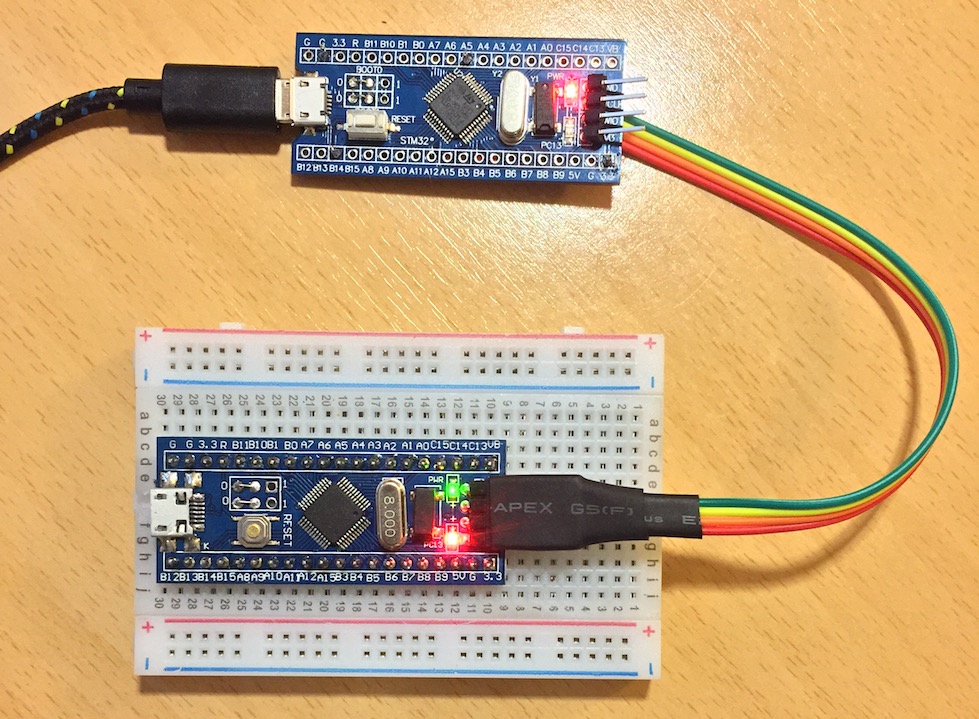 Ukratko o BMP ovde:
http://hackaday.com/2016/12/02...be-the-best-arm-jtag-debugger/
ELF fajlovi (DFU bootloader + firmware) koji se upucava u STM32F103C8T (u mom slucaju jeftina Blue Pill plocica)
http://blacksphere.co.nz/builds/
BMP source i WiKi:
https://github.com/blacksphere/blackmagic/wiki
Uputstvo za izradu BMP pomocu ST-LINK (moguce je i bez toga preko obicnog seriskog adaptera, malo je drugacija procedura):
http://embdev.net/articles/STM...d_Flash_Using_Two_Cheap_Clones
Korisne GDB komande:
https://github.com/blacksphere...magic/wiki/Useful-GDB-commands
BMP takodje radi i iz Arduino IDE (STM32duino), vrlo brzo usnimava program i bez stiskanja RESET dugmeta, sve odradi za nekoliko sekundi.
Takodje BMP ima i seriski interfejs na sebi, prijavi se u sistem kao dva uredjaja, jedan je sam programator/debuger i drugi je standardni seriski port.
Moguca je integracija debugera sa Eclipse ili drugim IDE preko standardnih GDB opcija ili iz terminala, raspolozive su sve opcije oko play/stop/next, BP, citanje i pisanje memoriskih lokacij ili registra ... Vrlo vrlo mocna alatka sa "sitnu" kintu !!!
Povezivanje:
Citat:
Make the connections between your target and new BMP debugger as follows.
Code:
TARGET DEBUGGER
GND GND
SWDIO PB14
SWCLK PA5
POWER 3.3V
Black Magic Probe supports both JTAG/SWD and Serial/UART debugging simultaneously. So here is the pinout of that, once you get around to using it. Remember that RX/TX lines are interchanged from source to destination.
Code:
TARGET DEBUGGER
RXD PA3
TXD PA2
---