World's First Mobile Phone Runs On Windows XP – xpPhone
Citat:
Instead of using Windows mobile or Android as the operating systems for mobile phone, In Technology Group Limited (ITG) has taken another innovative approach to use Windows XP as the operating systems on its mobile phone which known as xpPhone.

The xpPhone is the world first ever mobile phone which runs on Windows XP.

The xpPhone has been designed with a large screen 4.8-inch TFT LCD with 800 x 400 touchscreen for users to feel like desktop view.
The messaging functionality has been enhanced with a sliding QWERTY keyboard.
Powered by AMD Super Mobile processor with 512MB or 1GB memory, xpPhone is also equipped with a CMOS camera.
It boasts with dual hard drive SSD and HDD, supports all three major 3G standards, HSDPA, HSUPA and EVDO, and integrated A-GPS.
In addition, it also comes with Lithium-ion battery that provides up to 5 hours of talk time, Bluetooth enabled and supports Wi-Fi.
Available in white, red and silver colors, The xpPhone with weighs 400 grams is available for pre order from xpPhone official website.

Home page:
xpPhone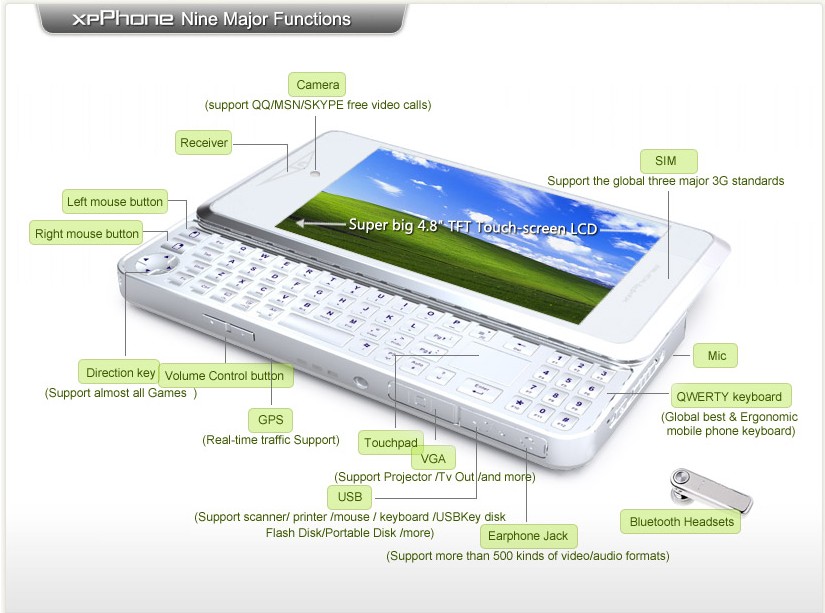 ---